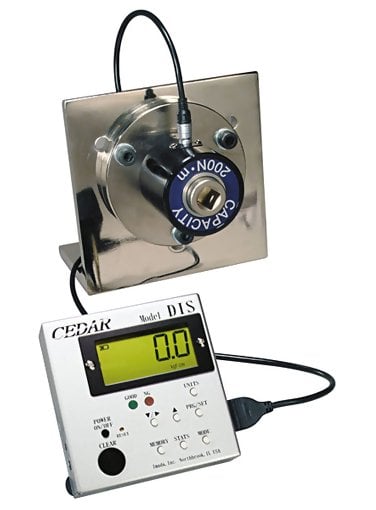 ---
4 Ranges up to 2.0~362.0 lbf-ft / 0.20~50.00 kgf-m /2.0~500.0 N-m
---
800 data memory for recall or for SPC download
---
Imada Cedar DIS-IP Digital Torque Tester with Remote Sensor calibrates torque tools up to 362 lbf-ft. It has an accuracy of .5% F.S., 1 LSD. Select Peak, Real Time or Peak Down measurement modes. Programmable high/low setpoints enable GO/NO GO testing; green lights between high and low setpoints, and red for under low and over high setpoint.

Use the 800 internal memory for peak data recall or USB download for analysis by Imada data acquisition software SW-1SV-USB.

Calibrate your own torque wrenches and electric drivers and and save down time. Do not use with power drivers or impact tools (Ask for DI-1M impact wrench torque tester).
Heavy duty metal construction
lbf-in, kgf-cm, N-cm, or lbf-ft, kgf-m, N-m (see table below)
800 data memory for recall or for SPC download
USB output for SPC capability
Peak, Real Time and Peak Down measuring modes (selectable)
Accuracy: 0.5% F.S. 1 LSD (32 to 100F)
Both clockwise and counterclockwise operation
AC adapter/charger included
Runs on internal NiCad batteries (8 hour use)
Programmable High/Low setpoints with GO/NO GO LED indicators and audible beep
| | | |
| --- | --- | --- |
| Model | Capacity | Drive |
| DIS-IP5 | 0.20 - 44.00 lbf-in | 0.20 - 50.00 kgf-cm | 2.0 - 500.0 N-cm | 0.020 - 5 N-m | 1/4" |
| DIS-IP50 | 2.0 - 440.0 lbf-in | 2.0 - 500.0 kgf-cm | 20 - 5000 N-cm | 0.20 - 50.00 N-m | 3/8" |
| DIS-IP200 | 20 - 1740 lbf-in | 2.0 - 145 lbf-ft | 0.20 - 20.00 kgf-cm | 2.0 - 200.0 N-m | 1/2" |
| DIS-IP500 | 20 - 4400 lbf-in | 2.0 - 362 lbf-ft | 0.20 - 50.00 kgf-cm | 2.0 - 500.0 N-m | 3/4" |