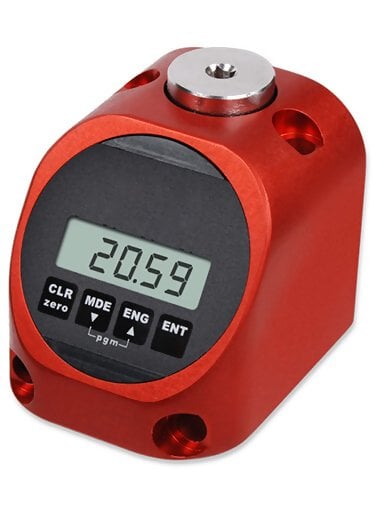 ---
Ideal for in-house testing and calibration of torque tools
---
Available in 15 different measuring ranges
---
Eight selectable engineering units: oz-in, lb-in, lb-ft, N-m, cN-m, Kgf-cm, gf-cm, Kgf-m
---
Simple bench mount tester for quick tool verification
For testing click, dial, and digital wrenches, plus most power tools including impulse and electric drivers*.
Our smallest and lowest cost bench mount torque tester to date, the AWS TT-QC / AWS-QC Digital Torque Tester is perfect for quick equipment verification right at your workstation. Small and light enough to use anywhere, this unit can still be used alongside any metrology grade tester.
A unique rotating display and dual bolt pattern allow the tester to be used in both horizontal and vertical configurations. It is ideal for switching between pistol grip and inline tool checking.
The AWS TT-QC / AWS-QC Digital Torque Tester takes just seconds to change test parameters, and works in either one button or automatic modes of operation. Reliability and ease of use are enhanced with features such as: Sign Lock, Peak Blanking, Auto Clear.
*Power tools require the use of arun-down-fixture
**Not for use withimpact toolsortorque multipliers
Also known as the AWS-QC, Aimco Torque Cube
AWS TT-QC / AWS-QC Digital Torque Tester
AC adapter/Charger
Operating Manual
NIST Traceable calibration certificate with data
Warranty 1 (one) Year

*Rundown Adaptor (Joint Simulator) Included with 1/4" & 3/8" drive size models
Includes NIST-Traceable Calibration Certificate with data
Bidirectional accuracy of 1% of indicated reading
Eight (8) selectable engineering units: Oz.in., Lb.in., Lb.ft., Nm, cNm, KgfCm, gfCm, Kgfm
3 modes of operation: Track, Peak and 1st Peak
Rugged Aluminum Housing
NiMH rechargeable batteries provide 8-10 hours continuous use
RS-232 Data Output (requires optional cable / software)
| | |
| --- | --- |
| Calibrated Range | 10-100% Full Scale, bi-directional |
| Accuracy | 1% of Indicated Value (within calibrated range) |
| Resolution | 4 Active Digits |
| Overload Protection | 200% Full Scale bi-directional |
| Operating Modes | Track, Peak, 1st Peak |
| Filtering | Selectable; 125Hz, 250Hz, 500Hz, 1000Hz, 1500Hz and 2000Hz |
| Data Output | RS-232 |
| Alarm Limits | Panel Mounted LED for Visual Alarm Limits |
| Power | Internal NiMH battery, AC Adapter / Charger (included) |
| Weight | Aproximately 3lbs depending on transducer |
| Operating Temp | 32 - 120 F (0-50 C) |
| Warranty | 1 Year |
| Calibration Certificate | Includes NIST Traceable calibration certificate with data |
| Standard Accesories | Joint Simulator for 1/4" & 3/8" drives, AC adapter/Charger |
| Optional Accessories | Joint Simulators for 1/2", 3/4" & 1" Transducers |
| Model | Range | Drive Size | Run-Down Fixture |
| --- | --- | --- | --- |
| TT-QC-50z-1/4 | 5 - 50 ozf-in | 1/4" | Included |
| TT-QC-100z-1/4 | 10 - 100 ozf-in | 1/4" | Included |
| TT-QC-200z-1/4 | 20 - 200 ozf-in | 1/4" | Included |
| TT-QC-10i-1/4 | 1 - 10 lbf-in | 1/4" | Included |
| TT-QC-25i-1/4 | 2.5 - 25 lbf-in | 1/4" | Included |
| TT-QC-50i-1/4 | 5 - 50 lbf-in | 1/4" | Included |
| TT-QC-100i-1/4 | 10 - 100 lbf-in | 1/4" | Included |
| TT-QC-150i-1/4 | 15 - 150 lbf-in | 1/4" | Included |
| TT-QC-250i-3/8 | 25 - 250 lbf-in | 3/8" | Included |
| TT-QC-500i-3/8 | 50 - 500 lbf-in | 3/8" | Included |
| TT-QC-750i-3/8 | 75 - 750 lbf-in | 3/8" | Included |
| TT-QC-1000i-3/8 | 100 - 1000 lbf-in | 3/8" | Included |
| TT-QC-100f-1/2 | 10 - 100 lbf-ft | 1/2" | Optional |
| TT-QC-150f-1/2 | 15 - 150 lbf-ft | 1/2" | Optional |
| TT-QC-250f-1/2 | 25 - 250 lbf-ft | 1/2" | Optional |
| TT-QC-500f-3/4 | 50 - 500 lbf-ft | 3/4" | Optional |
| TT-QC-600f-3/4 | 60 - 600 lbf-ft | 3/4" | Optional |
| | |
| --- | --- |
| The flexible design of the TWT-410 is easy to use and is suitable for various torque wrench lengths and brands | |
| | |
| --- | --- |
| 0.5% Accuracy of indicated reading from 10-100% of the capacity (Bidirectional), 0.25% Optional | |
Bidirectional accuracy of 1% of indicated reading
3 modes of operation: Track, Peak and 1st Peak